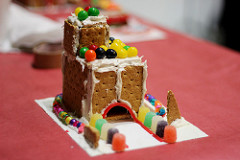 This is a great STEAM (science, technology, engineering, art and technology) idea that will appeal to students of all ages. I love this idea! Design and construct the important parts of your community out of gingerbread (graham crackers) with icing, candies and for the older students, circuits and programming. What buildings best represent your community? Represent them in edible form. And for those looking for an extra challenge, partner up with another group of students in a different community and video conference with them to learn more about their community.
Read more about the project at: http://gingerbreadstemcommunity.weebly.com/project-instructions.html
Search Twitter for #gingerbreadstem to see examples.