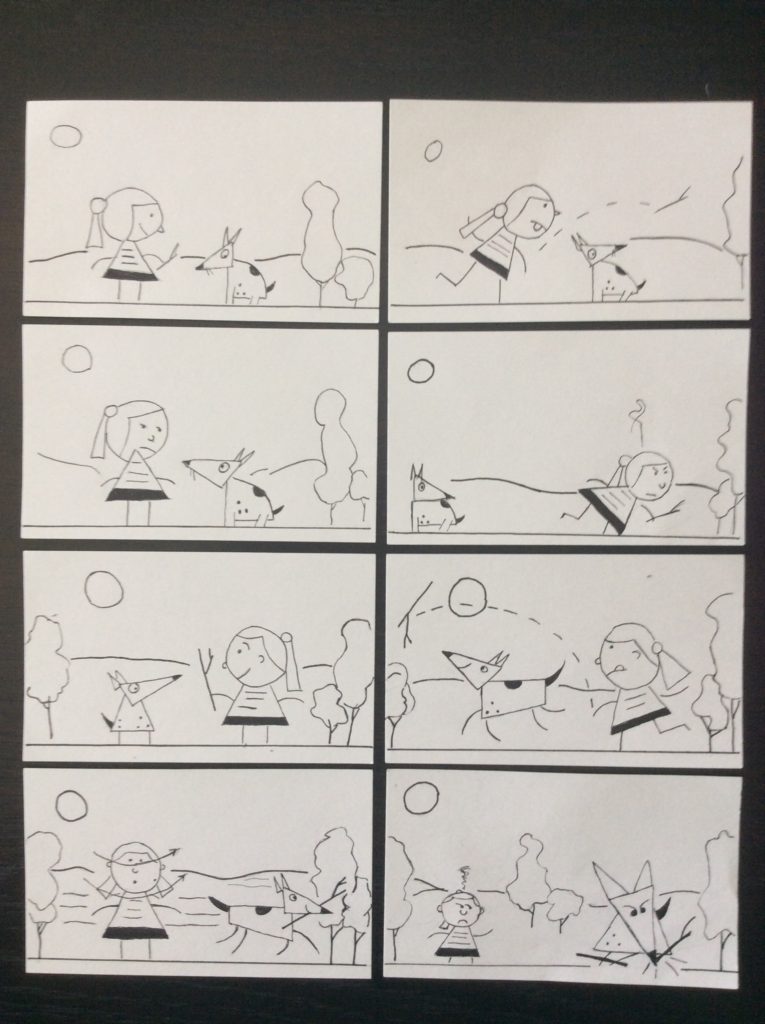 This is a project from Chapter 4 of Ivan Brunetti's Cartooning book. Create a character, an action, a location, then tell a story using only images and no words. I started working through this book several years ago, but didn't make it very far. I resumed work this summer when presumably I would have some extra time on my hands. Ha! That's funny. I've been constantly on the go.
But this week has provided me some relatively free time, so I did this project that required first to make four frames telling a story, then four more frames that adds more detail. The above sequence shows the result of that effort. It took me around five hours or so to make what you see here from sketching out different ideas and concepts to solidifying and building on a story.
I decided to tell a story that describes my Blue Heeler dog Daisy. I started out with a girl character using Brunetti's simple geometric shapes. A circle for a head. A triangle for a body. Little lines for arms and legs. Add some decorations and that's it. Then I played around with a doggie character also in simple shapes.
I think keeping things simple like this keeps the  focus on the story. I also think this approach might be useful in a class project with students that encourages visual storytelling without requiring an extensive background in art .
Even with the simplified forms, right away I see the flaws in my drawings. There are compositional issues. There are better solutions to problems, I think. See the second to last frame? I wanted to convey the dog zooming by the girl without stopping but it seems really rough here to me. I think one or two frames have too few environmental elements, and some of the others too many.
I'm experimenting here trying to get a good feel for what is the right amount. I want things to be visually interesting without being overwhelming. But this is a starting point, and I have finally resumed work on something I've been wanting to do for a while now. The Cartooning book.