In no particular order, these are some of my proudest moments in teaching.
Graphic Syllabus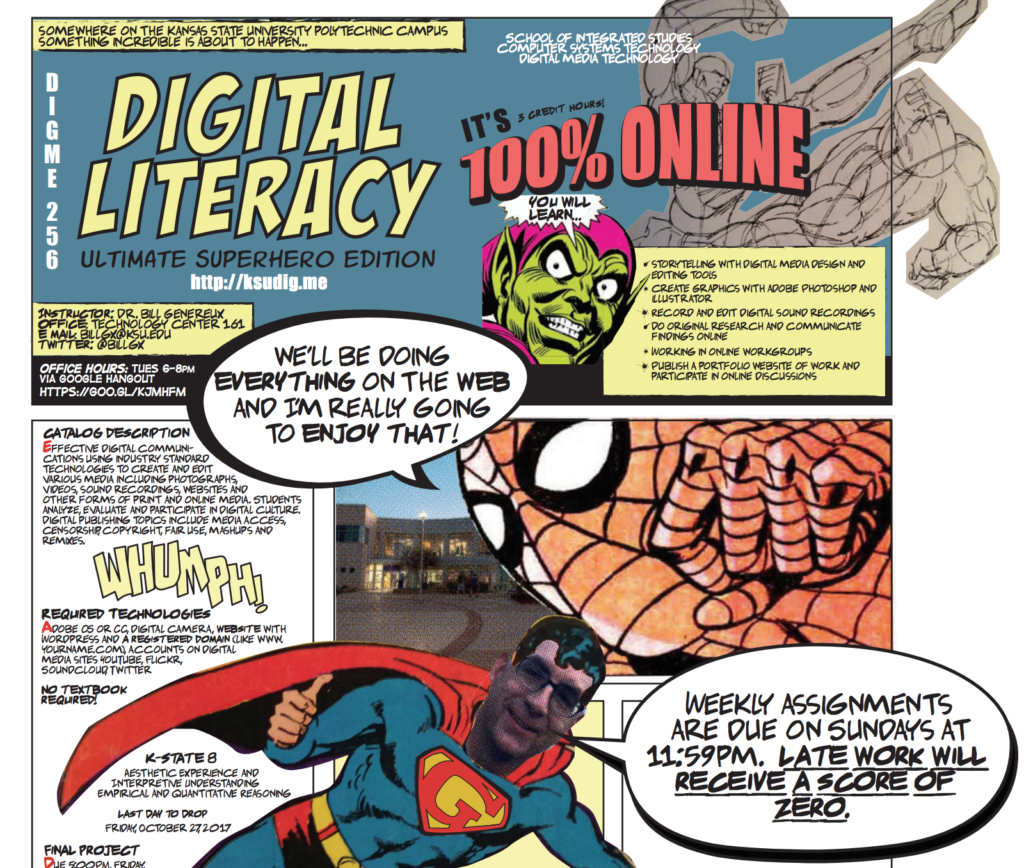 I have been intrigued by the notion of creating an infographic style of syllabus, so I have made a couple of them. It takes many hours to create something like this, but I think it is worth the effort to make something so unique for a college course.
---
Subnetting Song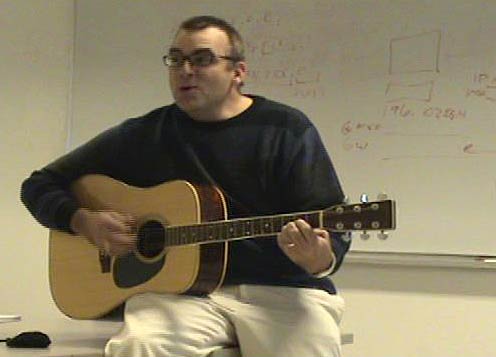 Subnetting is probably the most challenging topic in my Hardware and Networking course. It isn't overly complex, but it is unfamiliar to most students who take my class. To provide another way to think about the material, I wrote a silly song about it and do surprise performances of it in class. Sometimes students even sing along with me once they catch on. Having a sing-along in a computer class is completely unexpected, and that's what makes it so wonderful.
---
Pumpkin Carving
In our Visual Literacy course, we study elements of design. Students conceive of a design to be carved on a Halloween jack-o-lantern, develop it using Adobe Illustrator graphics software, print it out, transfer it to the pumpkin and carve it out to create a complex image when lit. The assignment was so successful that I wrote a paper about it with colleague Katrina Lewis, and even went to Madrid, Spain to present it.
---
Guest Speakers by Skype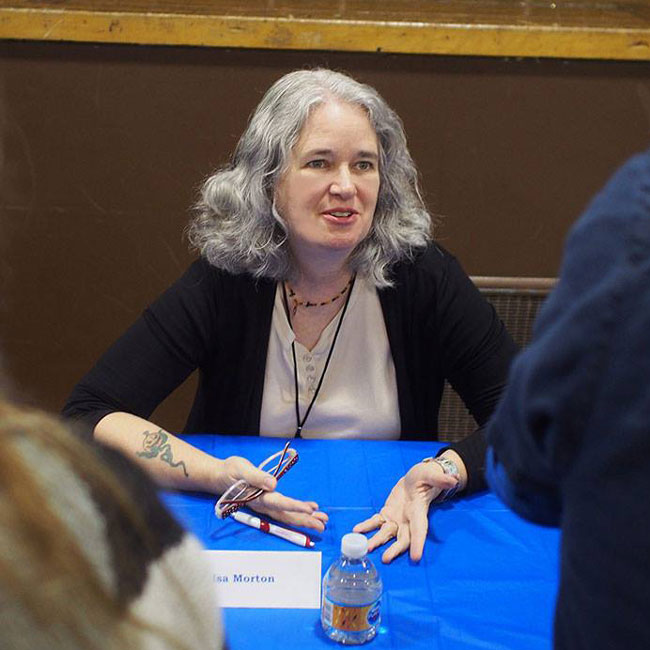 While doing the research for our pumpkin carving paper, I came across a history of Halloween book by Lisa Morton, an author who also happened to be the president of the Horror Writers Association. When we were exploring the horror genre in the digital literacy class I teach, I reached out to Lisa and invited her to visit with our students by Skype teleconference, and we had a really great visit with a well-known expert in her field.
Another great Skype my students and I did was when a national story came out about a teacher who reconciled with a student who had gotten him fired. Josh Kaplowitz was in his first year of teaching when a young boy, Raynard Ware, said that the new teacher had pushed him down. Kaplowitz was arrested, fired and humiliated. Years later, the older and different Ware reached out on Facebook, apologized for fabricating the story that cost his former teacher his teaching career and the two became friends.
I reached out to Mr. Kaplowitz and invited him to have a Skype with my students who were studying Social Media technology. He suggested that we include Raynard Ware and we ultimately wound up teleconferencing with both men.
Over the years, my students and I have had numerous Skypes and teleconference calls with designers, game programmers and even former students who graduated from the K-State digital media technology program. Each time we do, I am filled with awe at how simple it is to arrange such virtual meetings.
---
Theatrical Teaching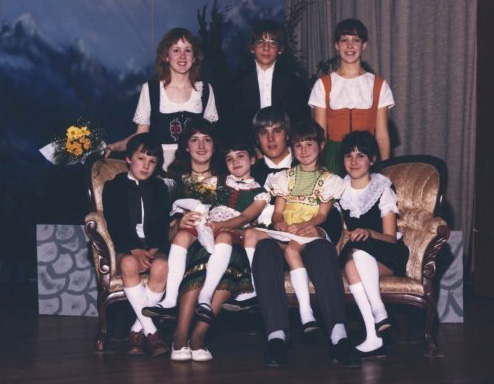 I got involved in theatre in high school. My very first musical production, shown above, was The Sound of Music in which I played the eldest Von Trapp boy.  Most people I work with don't realize how much I am still infected with this affinity for the dramatic. I love to do skits, simulations and role-playing in my classes.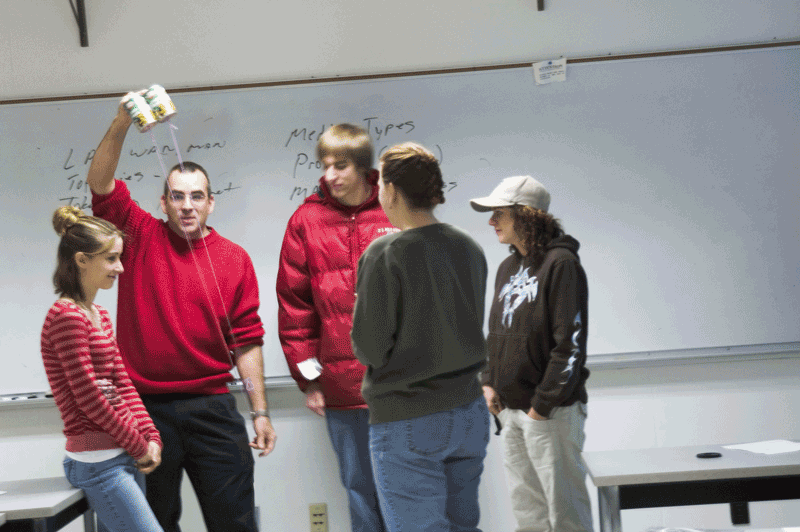 In this skit, we are simulating a busy network using cans with strings "telephones" and how the CSMA/CD protocol acts as a referee that decides who may speak at a given time.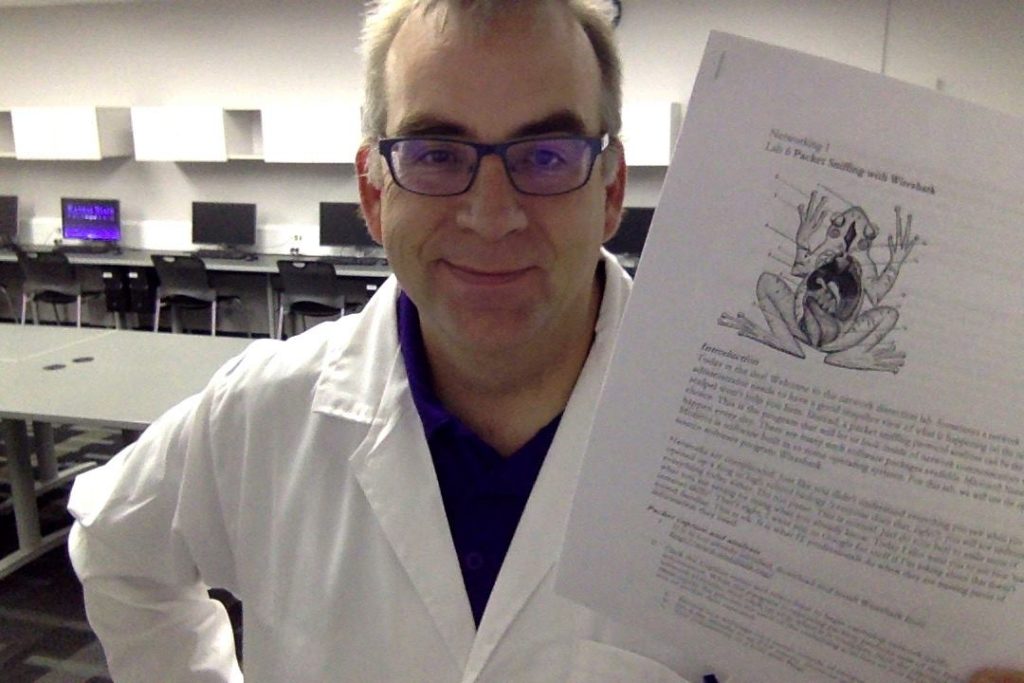 I created a "dissection lab" in the hardware and networking course in which we examine data packets sent by a device on a network. I dress up like a laboratory scientist with lab coat and safety goggles and a stuffed toy frog. Looking at these data packets is very similar to a high school biology lab in which you open up a frog and recognize a few things you have been learning about, but much of it is confusing and complex. We recognize a few protocols we have been discussing, but real networks, like real life organisms, are messy and complex.
---
In these parody videos of Spongebob and Shrek, I use my voice-acting skills to make the famous characters talk about technology topics we discuss in class.
---
Field Trips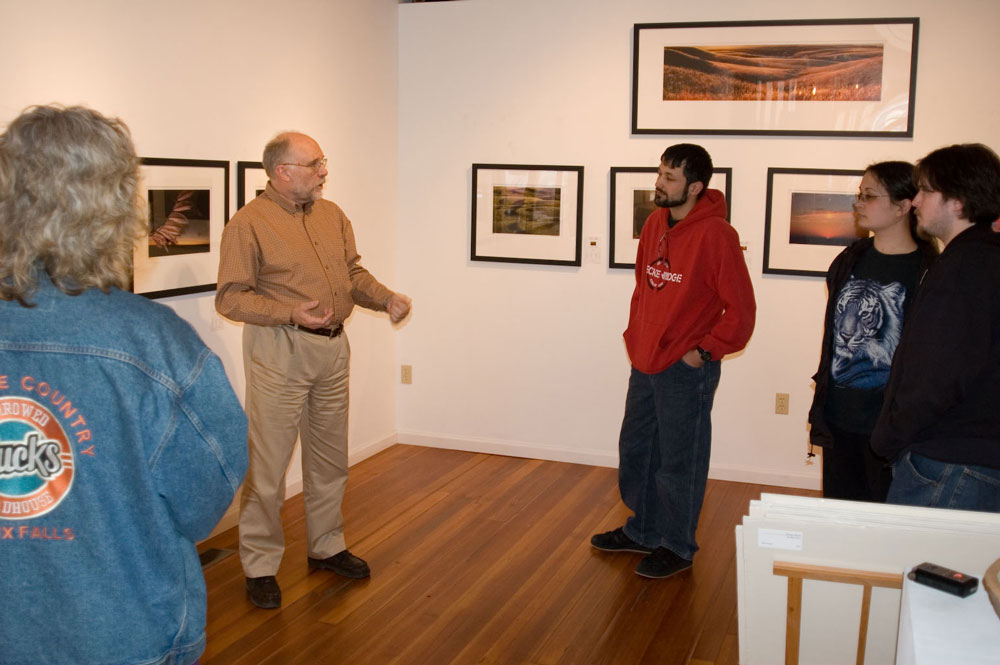 A favorite stop for digital media students is the Small World Gallery in Lindsborg, KS, especially when we get to meet the owner, National Geographic photographer Jim Richardson. In the photo above, Jim is telling us about his latest work. Jim is such a treasure here in Kansas. He is always willing to talk with students and even shares technical details of his work with us.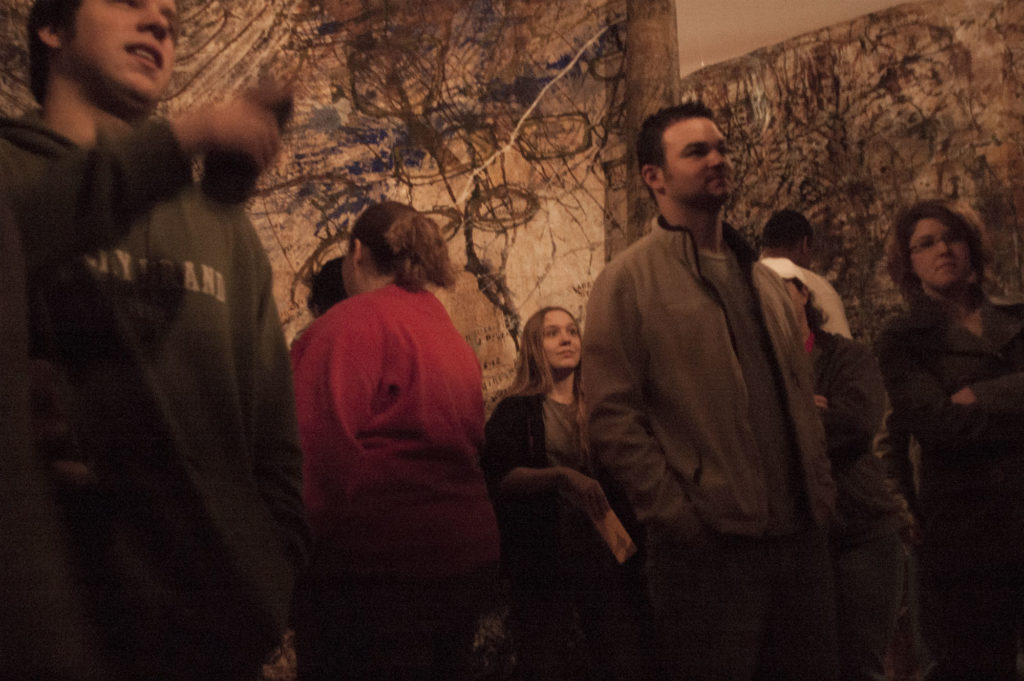 Here are my students, fully immersed in an exhibit at the Salina Art Center. I am continually amazed that even lifetime residents of Salina have never set foot in the Art Center, so we often take field trips here to experience the artwork.
---
Extraordinary Student Awards
Probably the most rewarding part of my job is working with students who face extra challenges in their college studies because of their life situation. It might be that they are a single mother trying to support a family on their own while attending school. It might be that they have a condition that makes learning and/or social situations difficult. It might simply be that they come from a background filled with difficulty and turmoil. Whatever the situation, when I become aware of these students I do whatever I can to assist them on their journey.
Each year, Kansas State University recognizes about a dozen or so students who have overcome extraordinary circumstances to obtain their degree. There are many nominees and only these select few who are chosen to receive it. I have nominated two individuals who have won this award and it is my privilege to have known and worked with these students.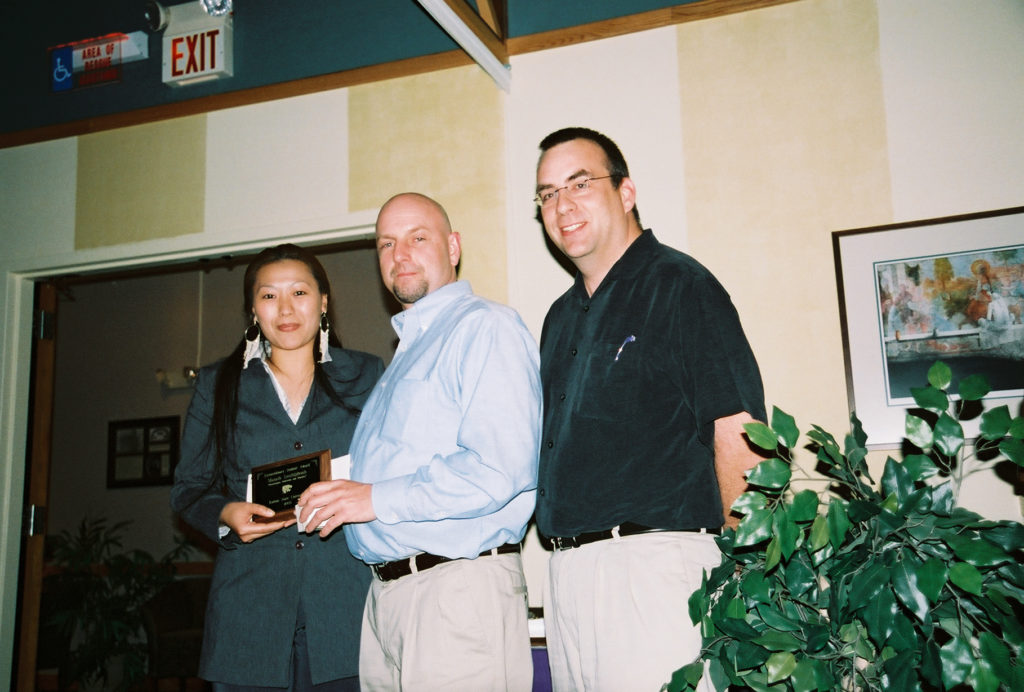 Manath Leuthiphonh receives the K-State extraordinary student award in 2007. She is doing well in her career and we keep in touch from time to time. Sadly, her classmate Scott Johnson (middle) was killed in a violent crime a few years ago. His was one of the two student funerals I have attended since becoming a college professor.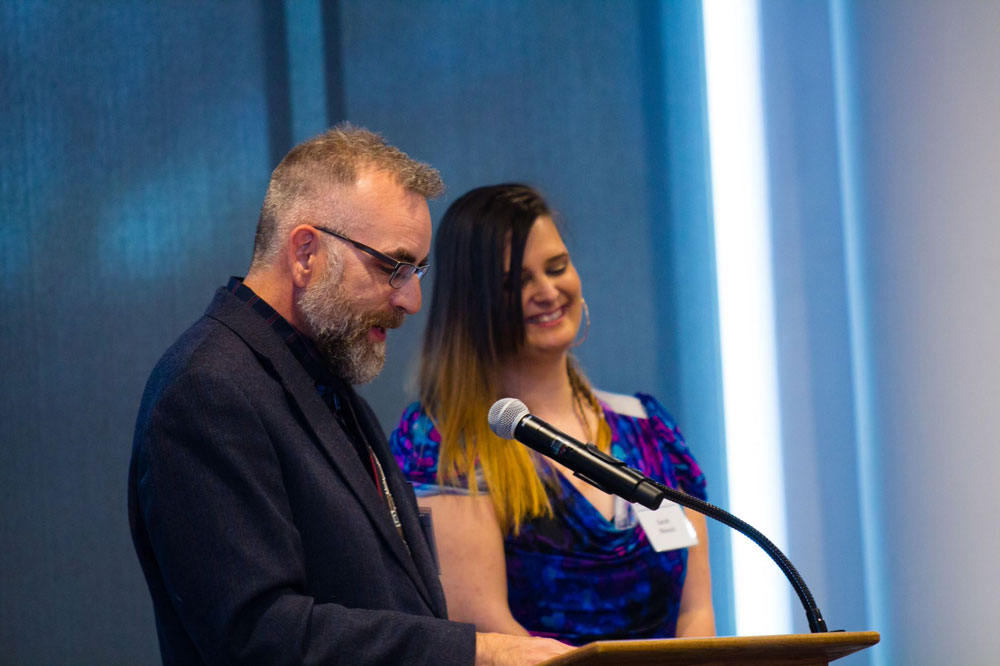 Sarah Welsch received her K-State Extraordinary Student Award in 2018. She has found meaningful work and is making a new life for herself thanks to her college degree.
---
Dissertation Defense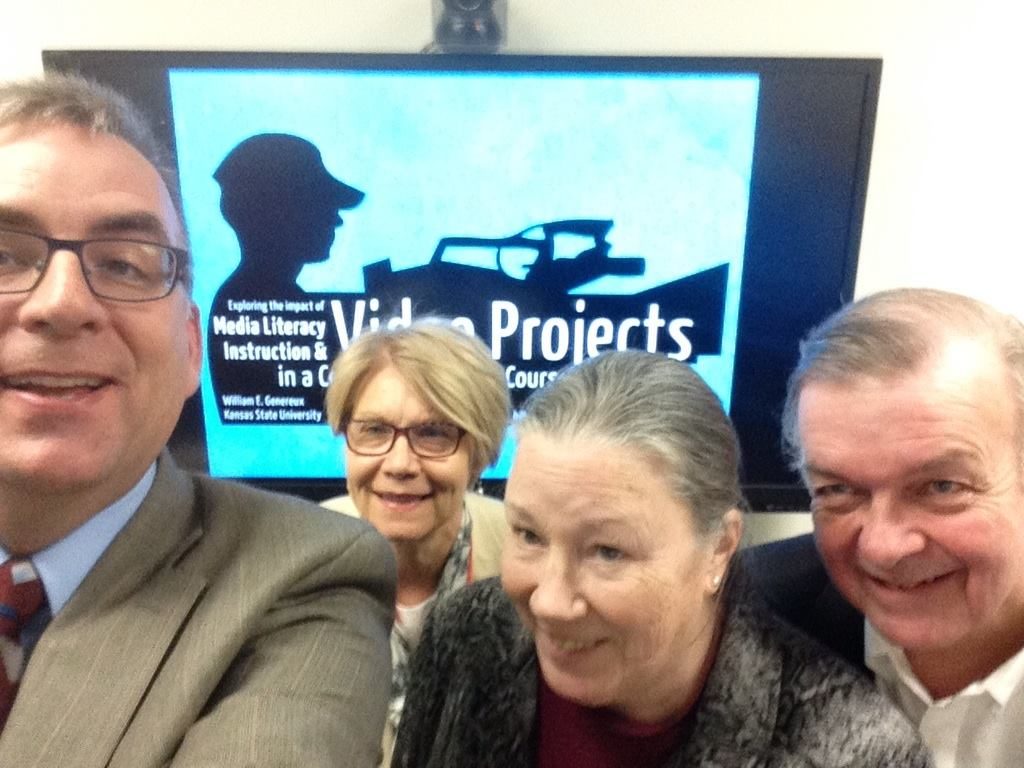 Words are inadequate to describe the feeling of this day; the day of my successful Ph.D dissertation defense. It is called Exploring the Impact of Media LIteracy Instruction and Video Projects in a Computer Technology Course. It details the research I did on using student-made video projects as an expanded form of literacy.
If you would like to see my students' video projects, you can see some here.
---
Digital Media Degree Program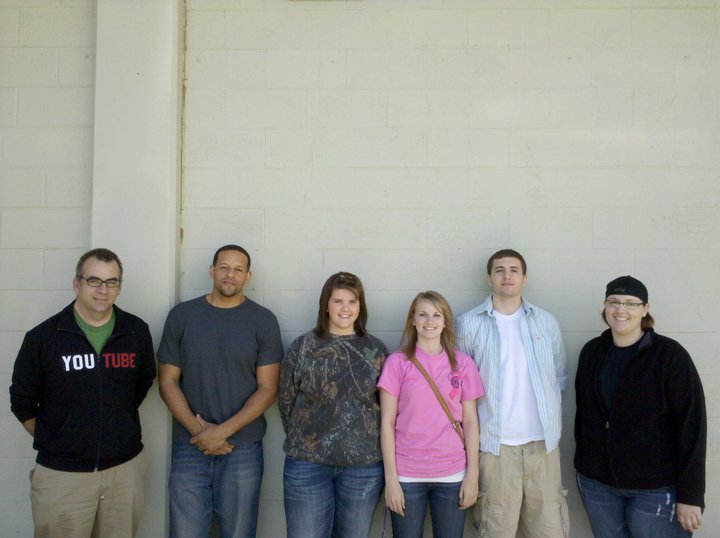 Last, but certainly not least, I am extremely proud of the K-State Polytechnic degree in Digital Media technology that I conceived of and helped to implement. The degree combines computer technology with the creative arts resulting in graduates with an extremely unique and marketable set of skills.
In the photo above are some of the very first students in the Digital Media degree, taken in 2010. From left to right are myself, Will Jones, Trista Bieberle, Sarah Woodruff, Brandon Moberly, and Kristin Scheele. Except for Brandon (anyone know where he is nowadays?) I am in touch with them all and they seem to be doing very well for themselves.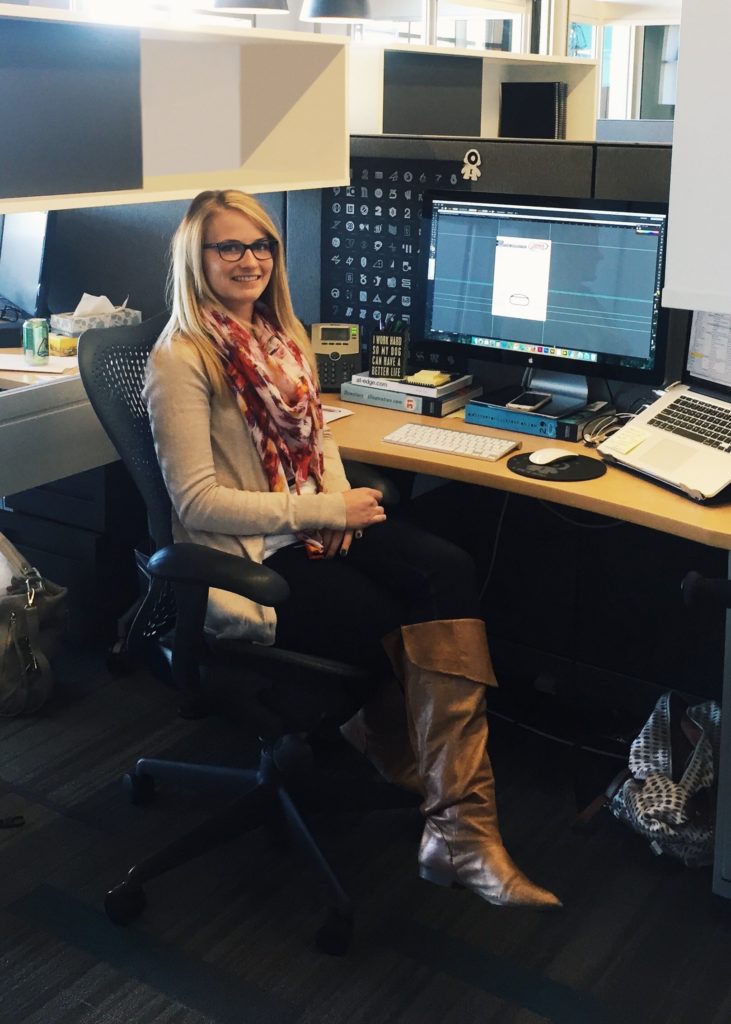 For example, Sarah Woodruff is now employed at Fervor in Kansas City as a senior graphic designer and user experience (UX) expert.
I am so proud of all of my students.
---
So there you have it; the list of my proudest moments in teaching. Anytime you try to create something like this, you will undoubtedly forget something important. But this gives a good overview of what I've been able to accomplish as a college educator.