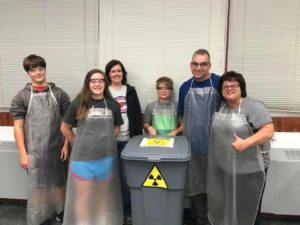 Last night my family and I participated in a fun fundraiser at the high school – an "escape room." I have been hearing about these escape rooms recently. My kids as well as my students have been talking about them, so when our school set one up we had to try it out.
Although there was a short informational video, we walked into the escape room knowing very little about what we had to do. There was a science scenario, in which the world is going to end by a pandemic disease unless we solved the puzzle within the next hour.
Sorry world, you didn't make it!
Our team included my wife and two kids, as well as my sister and her son. All of the kids were in the 12-15 age range. We weren't allowed to bring personal items into the room, including cell phones. I guess most escape rooms are actually locked, and you have to free yourselves, but ours just had the door closed. It didn't matter. It was still a bit unnerving being cooped up for an hour.
We started poking around the items looking for clues. It was an English classroom, turned into a science laboratory. There were chemicals and books and messages, and several locked toolboxes with multiple locks on them.
Our escape room had a telephone with instructions on how to phone in for three clues that would help us. But the clues were pretty mysterious in themselves.
We managed to get one toolbox unlocked, and inside it were some vials of some colored liquids. Also, there were litmus paper strips we could measure the PH of the liquids with. Somehow, after a couple of tries, we managed to use the numeric PH levels as the secret combination on another lock. But that is about as far as we got.
The activity required good communication, teamwork, thinking and problem solving skills. I think it is an excellent thing for people to be doing, especially young people. For an hour we actually got away from our technology a little while and spent some quality "together" time. But for me, it also showed some of my own shortcomings. Getting frustrated, losing patience, working on a team with everyone tripping over one another, not communicating well.
Some things that would have helped us include:
1) bring a notepad and pencil. I didn't have anyway to write down information that was needed later.
2) Communicate when we found something new. Several times, somebody found something that would have been useful, but couldn't make sense of it, and left it alone. Nobody else knew about it. If we announced that we found something to the group, we could have taken turns at it.
3) More time. We probably spent 15 minutes just figuring out what we were supposed to be doing.
Doing this activity has me wondering if there is something here that could be brought into a classroom setting. I've read a little bit about gamifying courses, but haven't done much with that idea yet. The closest I've come is using skits and simulations. A full blown escape room, built upon technology concepts we have been learning in class seems like it might have some potential. Stay tuned!