One of the biggest mistakes I think people make is waiting until they know how to do something before they begin. This is especially a problem in our information-rich world. If you hesitate, if you wait until you are fully qualified to begin, it might be too late. Get going now!
Don't worry 'bout what you don't know, life's a dance, you learn as you go. – from the song Life's a Dance.
Especially in my field of computer technology, we are always learning as we go. This stuff is moving so fast, you are always playing catch up. The best that you can do is to always be learning. That's why I like the Pablo Picasso quote that goes like this: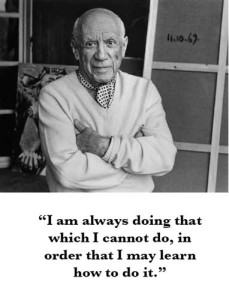 Don't wait for permission. Don't wait until you feel qualified. Dive in and start doing it. The best computer/tech people don't let the excuse of "I don't know how to do that" get in the way. The best computer people I know have a big collection of self-taught knowledge. The best computer people do things they don't already know how to do on a regular basis. If you are doing things you don't already know how to do, you are doing it right.