This week I'm digging out some tools to help get some context of how things were in the 1980s. One fun thing I've found in my online research is the Wishbook archive of Christmas catalogs. This archive has scans of printed catalogs prepared for the holiday shopping season extending back into the 1930s.
For a quick reference, I've created a list of all of the Christmas catalogs from the 1980s in a single post. Another tool that I've found is this online inflation calculator that converts the prices from years past into today's US Dollars.
Let's dive into the archives and see what we can come up with. For this post, I am exploring the 1980 Sears catalog.
I found this stereo system that is similar to the one I bought used from a classmate about 1980.  I think I probably paid $50.00 for mine because mine only came with an 8-track player, not a cassette. New in the catalog this stereo was $149.95  That is $467.00 in today's dollars, about the cost of a middle to high end smartphone.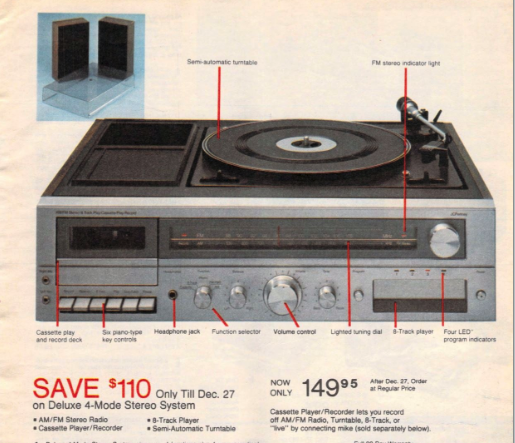 One thing you have to realize that for me as a teenager in the 1980s, this stereo system was my ticket to good music and entertainment. This stereo has microphone inputs as did mine, and I used the microphones to make my own recordings and mixtapes. Young people today carry this capability around in their pocket, but my first "recording studio" was in my bedroom. Unfortunately none of the recordings I might have made back then survive today. I eventually sold my stereo and all of the 8-track tapes I had at a garage sale.
Here is another fun item that I only had infrequent access to through my school. A portable VCR with color video camera. In 1980, to record home video, you needed two separate devices, the recording capability was not built into one machine.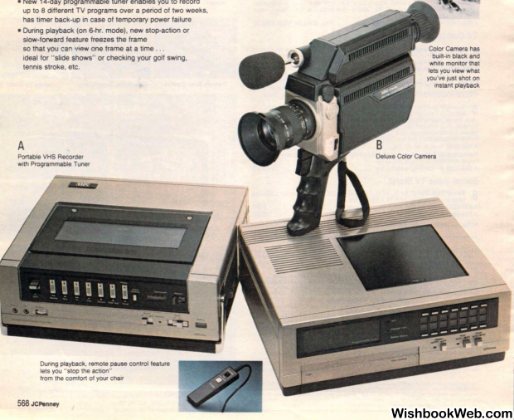 You could purchase the camera and VCR for around $2,000 which in today's dollars is about $6,200. One thing that I have learned by living through the 1980s is not to buy this year's model of technology. You'll pay a premium and next year there will be something much better that makes you regret paying so much for what you have.