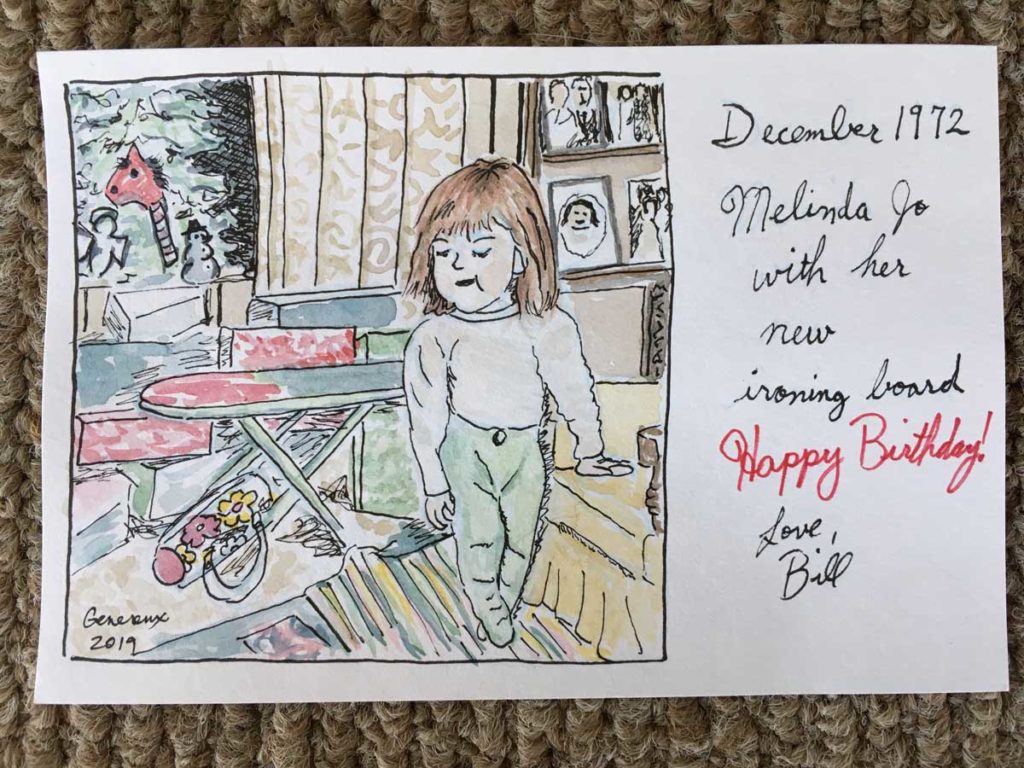 I made this watercolor and ink picture using an old photograph I found and sent it to my sister Melinda Jo for her birthday earlier this month.
The setting is Grandma's living room. This space is home to many fond memories but it exists now only in our photographs and memories. The house was torn down not long after Grandma's passing. From the date on the photo I learned that this was Christmas morning in 1972. Melinda turned 3 in December of that year. I can remember this day very well and after visiting with my sister recently she has some detailed memories too of that Christmas even though she is two years younger than me.
As I studied the scene one of my favorite memories is sitting in that yellow Lazy Boy recliner on my grandmother's lap, reading one of the many storybooks she kept in the cupboard to our right. We can see the book cupboard in this picture beneath the shelving that is holding the framed photographs. My grandma always had pictures on display. I remember seeing my mom's high school senior portrait somewhere in that room every single time I visited it, from the early 70s even to the time we brought our daughter, a great grandchild for visits in the early 2000s. Now that my daughter is a senior this year and we proudly and prominently show her photo off, I wonder how long we will do the same thing?
Since I went to Lynda Barry's Writing the Unthinkable class in November, memories like this one are all the more cherished. Lynda shared with us that no one ever read to her as a child so she takes special care and interest in listening to the stories written by and read aloud by her students. When she chooses someone to read, she goes and plops down on the floor next to the reader to make up for those missing childhood stories that people like my sister and me take for granted. That experience of having Lynda Barry listen to a story of mine in this way and then seeing this picture of my sister standing in our favorite storytelling space, such a beautiful child evoking such warm memories, I knew I could do something special with this picture, so I painted it and sent it to her for her birthday.