Thursday evening near sundown while driving home from work, I noticed the strangest thing. I saw a man a little ways off of the road climbing into what looked like a plywood box on wheels. The box looked like it was a bike trailer attached to some sort of bicycle. Like I said—strange. The next morning I was going to work I saw the man again, but this time he was on the road with his human-powered contraption.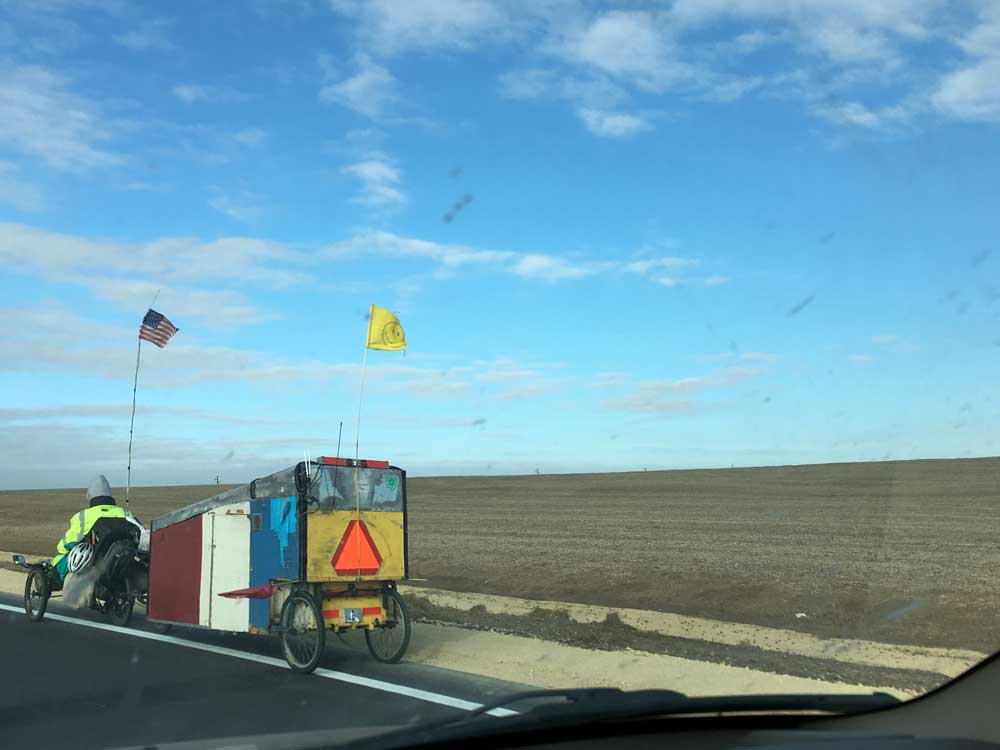 I stopped to visit for a few minutes with the man and asked him where he was going. He said he was heading to Colorado. As I drove off and headed towards work, I thought to myself that I should do the same assignment as my Digital Literacy students are working in their online course – the mini-documentary and that I should interview the cycling man for my project.
Immediately I thought about all of the reasons this idea made no sense. It would be awkward, even scary asking the stranger for an interview. I had some other things I wanted to be doing at work, so it would be an inconvenience. I didn't have a video camera. I all had on me was a dated iPhone and old iPad Mini, both of which had their storage filled to the brim. I would have to delete some stuff to make room to record. It was freezing cold outside and a stiff wind was blowing.
So I stopped at a nearby convenience store, picked up a few energy bars and water, and drove back to where I thought I would find the man. After driving a few miles, I caught back up to him and asked if he could spare a few minutes to talk to me. He agreed, so we found a spot where we could pull off of the road and maybe get out of the fierce wind for a bit.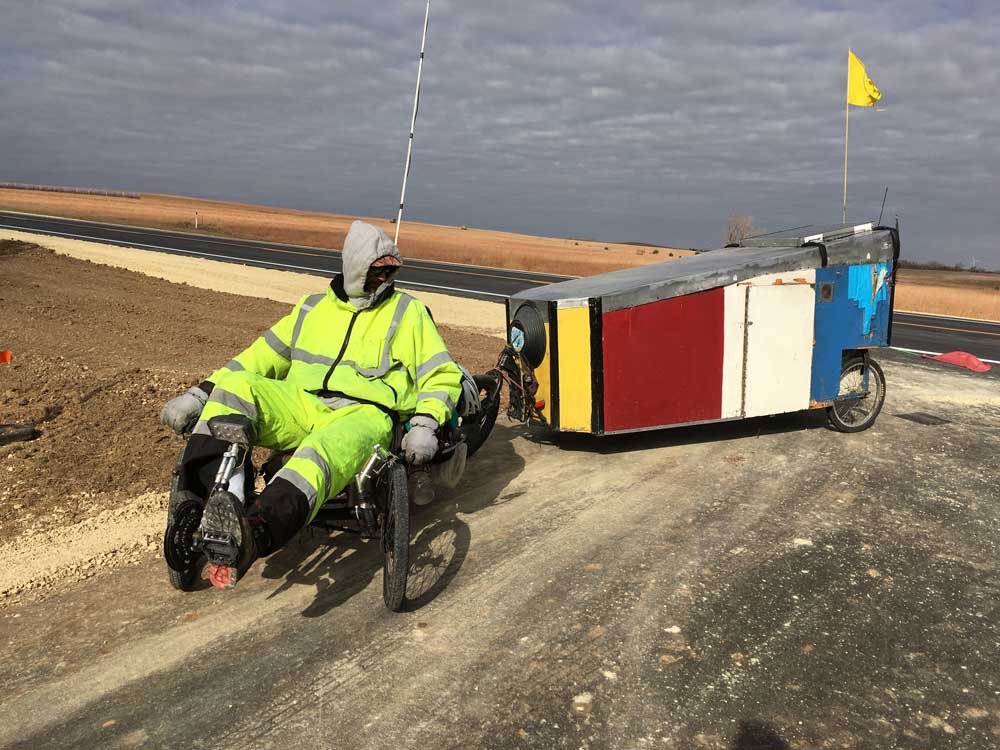 I learned his name was Tony Adams and he was returning to Colorado after riding out to Virginia and back. He told me he's been doing these trips for the past 19 years and that he sleeps every night in his 600+ lb homemade house trailer. It is tiny but has several amenities like a propane cook stove, a DVD player and television, a cell phone and a solar panel for charging his devices. He purchased the recumbent bike he was riding and modified it for pulling the heavy trailer that he built by hand from scratch.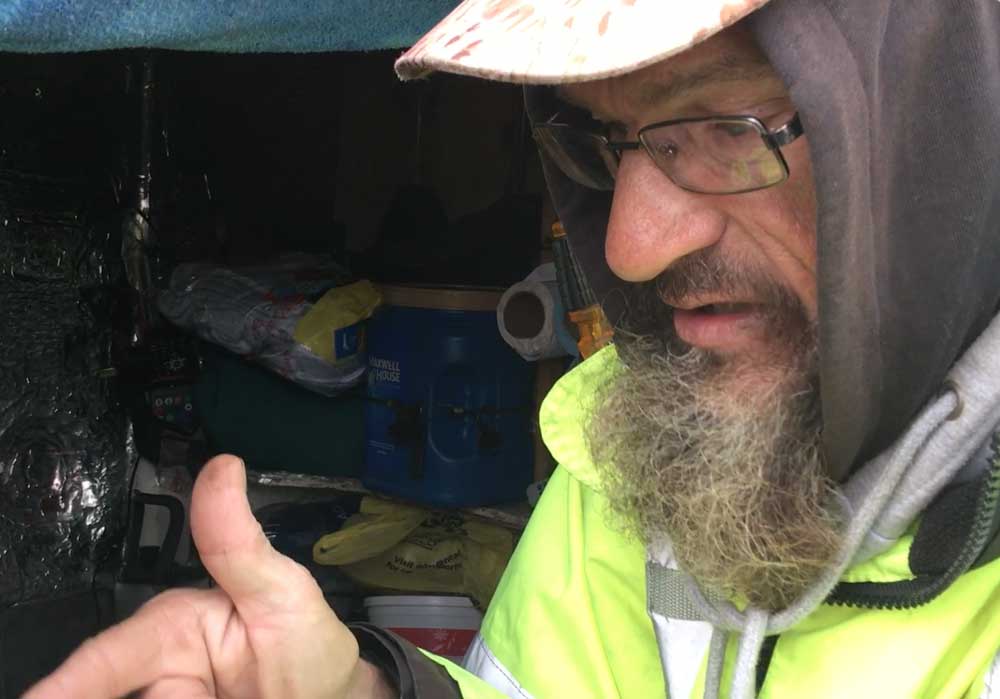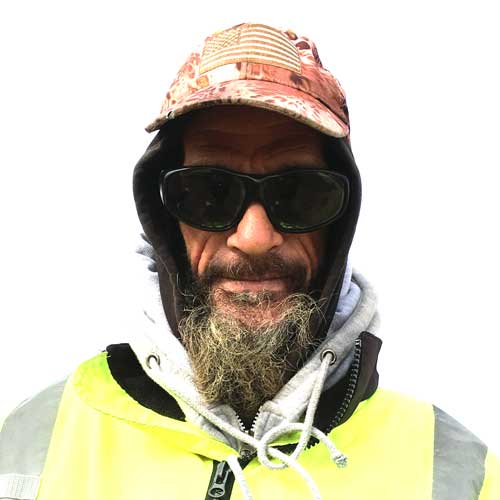 Many of the items he uses he finds along the road as he travels, including the three flags that he flies, various electrical chargers and devices. One thing he always keeps an eye out is for old cellular phones that contain SD cards. One card he found had over 30 movies stored on it, providing him hours of entertainment.
Tony was very inspiring to meet, and it makes me want to try to be a little more like him. Just do your own thing and don't worry too much about what others think about it.
Some of the challenges:
It was so frustrating to get the video off of my iPhone. It took me forever, and I don't think it should be this hard.
It is scary talking to a stranger. I really had to psych myself up to even do it.
I planned to do several other things on Friday morning. It was inconvenient to change my plans. I had many excuses in my mind not to go back to talk with him.
Didn't have my best camera for recording, only an iPhone and old iPad Mini, both of which were completely full. I had to delete apps & podcasts to free up storage for this project on the fly. This was rough because as I'm trying to work the recording quits so I'm trying to delete more stuff so I can record some more.
After listening to the recording, I have more questions I wished I had thought of, but it was freezing cold. Probably around 30 degrees.
My batteries drained quickly in the cold. And I kept running out of space and had to delete more apps and content.
I hoped to get the video edited over the weekend, but that didn't happen. It is going to be a challenge to get the thing edited during the week to my satisfaction.
Benefits of doing this:
It was very fulfilling talking with Tony. He's an inspiration. He only moving 2-3 miles per hour but he's traveled to Virginia and back.
In theory, I should be doing the assignments I give to students right along with them, but in practice, it isn't feasible to always do it. I feel like doing the same challenging assignment, I am reminding myself of exactly what it is that I'm asking my students to do.
I'm still working on the video editing part of the assignment, but the hardest part, meeting a stranger and getting the recordings is done.